Himelhoch's™ Beginnings - From Caro to Detroit, Michigan
<![if !vml]>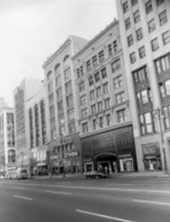 <![endif]>
Photo of the Woodward Ave., Detroit store, from the Detroit Historical Society
Originally from Sasmaken, close to the port of Windau, the Himelhoch brothers were the third generation of Himelhochs who settled in America. Samuel Himelhoch, their father, was born in 1808 in Sasmaken and his father, N'Ze've Himelhoch was born there in the 1790s. Wolf, Isaac, and Meyer were three brothers who immigrated from the province of Courland, Latvia, to the small town of Caro, Michigan. Wolf, Isaac and Meyer eventually operated competing businesses (Wolf one, and Isaac and Meyer the other) in Caro. Isaac and Meyer eventually moved to Seattle, Washington. Wolf and his wife, Blume (maiden name Blume Hirschberg), had four sons Herman, Zella (Zell), Moses (Mose), and Israel. These four sons were "the" Himelhoch Brothers, who, with their father Wolf, eventually landed in Detroit in 1907 and started the store there. The tale of the generations is filled with many interesting turns.
Data from the 1883 History of Tuscola and Bay Counties includes biographies for pioneers and community leaders. Isaac Himelhoch arrived at Syracuse at the age of 19. He then stopped at Bay City before opening his first Caro store at 21 in 1877, specializing in dry goods and men's furnishings. By 1883, when the history was written, Meyer in his now-expanded store, was employing 10 traveling salesmen and was only 23.
Isaac joined forces with cousin Bill Lewenberg after selling his remaining inventory to Meyer Himelhoch, and by 1883 when Isaac was 27 and their store was thriving, he and Bill owned the entire key block on State Street in Caro, Michigan.
Bill Lewenberg arrived in the States when he was a young teenager. In contrast to Wolf, Isaac, and Meyer, who left a good paper trail of their business and residential property transactions, we do not know when Isaac and Lewenberg split, or how or when Isaac and Meyer joined forces. We do know they were extremely successful, and their thriving stores locked horns in the early 1890s. The competition was so intense that during one period the families did not speak. Old newspaper ads at the Tuscola County Advertiser show intense competition between the businesses. One would run a red tag sale and the other a blue. Because of an earlier bankruptcy, the Wolf Himelhoch store was named B. Himelhoch, as his wife's first name was Blume. Due to the sheer weight of the uncles, whose unique talents and prodigious efforts became legendary, they won the war. In 1905, Isaac and Meyer moved to Seattle concurrent with the Alaskan Gold Rush.
The Caro, Michigan, store burned down early in the 1900s but was rebuilt in 1907. Wolf built a home that was the largest in the county, with a ballroom on the third floor and with indoor plumbing - a rarity in that day. The family only lived there a few years before moving to Detroit (photo of the original store at 180-182 Woodward Avenue along with its story is below).
<![if !vml]>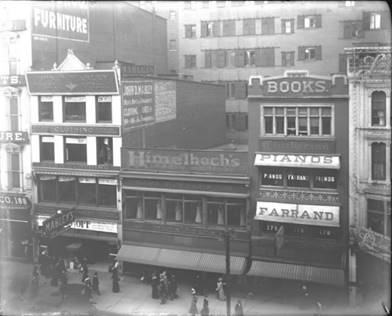 <![endif]>
Photo of Himelhoch's™ First Detroit Store Established in 1907, from The Detroit Public Library
Wolf formed a close relationship with the Marshall Field organization during his buying trips to Chicago. In 1907, backed with funding from Marshall Fields, Wolf and his sons opened the store in downtown Detroit, Michigan, on Woodward Avenue in the building shown above, next to Hudson's, and directly across the street from Ben Siegel (B. Siegel's), the largest women's ready-to-wear operator between Detroit and Chicago.
The Detroit Free Press (17 March, 1907) described the grand opening: "Palms and flowers, set among an array of lovely new gowns and suits, made the big show windows at 180-182 Woodward avenue one of the attractive spots along the thoroughfare yesterday" (p. 14).The early focus was on women's and misses' ready-to-wear, including "everything from malbari's silk petticoats to elaborate evening gowns and from a negligee to an opera coat will be kept in variety" (p. 14). The physical store was reported in the Detroit-Free-Press article to have a "fine exterior and an attractive interior. Mahogany fixtures, green tinted walls and green carpeted floors, handsome mirrors and display cases, make a restful and harmonious interior" (p. 14).
Between 1910 and 1920 Himelhoch's™ achieved fantastic growth as the city's population doubled. Go to "Himelhoch's™ Detroit and Beyond" to read about the migration to the Washington Arcade building in Detroit.
Next Page -> Himelhoch's™ Detroit and Beyond
Social Share:
All website content © 2018 Himelhoch's LLC..